Top 5 IT Challenges in 2023
According to Trade.gov, the UK is the largest ICT market in Europe, representing an ever-changing landscape of technologies that are perpetually evolving. With that comes a wide variety of challenges and opportunities. Here, we dive into the Top 5 Challenges that UK businesses face and opportunities that arise from them.
1.  Affordability
Regardless of company size, budgeting is extremely important. Some companies believe that budgeting surmounts to relying on outdated hardware and software to decrease costs. However, this severely disrupts the internal ecosystem, harming employee experience, productivity, customer satisfaction and hence profitability. Annually, 20 – 33% of IT hardware's initial cost is lost to depreciation, meaning that in 3 – 5 years most devices are past their End of Life (EoL), posing a security risk.
It comes as no surprise that the Economist Intelligence Unit concluded that the average IT project is backlogged by 3 – 12 months. Moreover, business project demand is rising significantly faster than IT budget growth, exacerbating the backlog. With that said, the cost of hardware refreshes and device management is not for the faint of heart, especially for industries that benefit most from access to the latest technologies (architecture, finance, healthcare, manufacturing, education and automotive, to name a few).
Whilst relatively new, capital-reducing services like Device-as-a-Service (DaaS), alleviate the upfront cost requirements and cost-effectively enhances device management – ensuring that better technology is available at a lower cost.
2.  Scalability
Growth is considered the #1 goal of owners, senior and managerial staff and there are plenty of reasons why:
Larger customer base
Access to more opportunities
More, higher calibre staff
Economies of scale
Greater buying & bargaining power
Though, it is essential that rapid growth is balanced with operational capability. If the same number of staff are expected to complete more work, or are given less time to complete the same volume of work, morale and productivity can take a steep dive, with employees potentially opting to leave.
Whilst there is no singular method of growing a business, having the right infrastructure in place prepares a business for growth and facilitates the process significantly.
Cloud solutions enable flexible working, disaster recovery, low acquisition & maintenance costs (more on that later). AI and workflow automation solutions streamline processes and cost-effectively increase operational capability with as little (or as much) human interaction as required.
3.  Hybrid & Remote Working
The COVID-19 pandemic brought an increased need for a hybrid workplace, which has quickly become the new norm for many companies. In fact, 72% of decision-makers at major corporations stated that the top area of improvement for them was "the supporting of remote workers". Considering the stark impact of COVID and the abundance of novel research, it is no surprise that this is at the forefront of employees' and employers' minds.
A 2021 Study stated that hybrid working accentuates a company's ability to adapt to both internal and external factors. Historically, the ability to adapt to ever-changing internal and external factors is linked to a business's longevity and profitability; two KPIs that remain unmatched across all verticals. As such, the preparation of remote working is fast becoming a key instrument to counter internal and external changes and outperform competitors.
Without the correct infrastructure and systems in place, the feasibility of adaptation to these factors become significantly lower. In the event of another pandemic, how can a company hope to perform without the correct infrastructure? Cloud-based systems, online collaboration tools and logistical support become invaluable, enabling the uninhibited continuation of operations. In fact, studies conclude that the future is hybrid (1, 2), an optimal balance between workdays spent at home and in the office.
Device-as-a-Service (DaaS) is popular with our customers, who benefit by always having the correct infrastructure, systems, devices and security protocols to ensure the operational continuation is streamlined and managed, end-to-end, regardless of changing internal or external factors.
4.  Cybersecurity
What is cybersecurity? Simply put; cybersecurity entails the practical measures to protect information, networks and data against internal and external threats (3). As humanity progresses towards digitisation, instigating the digital utilisation and storage of important data and documentation, the necessity of cybersecurity has become increasingly prominent.
According to IBM , the average cost of a data breach in 2022 was a staggering $4,820,000 / £3,862,169, with companies both small and large being targeted. If that wasn't enough, 83% of organisations have more than one data breach, increasing the multiplicity of costs. A 2021 study  concluded that most data breach incidents occur from human factor (see below).
Thankfully, newfound digital threats instilled novel solutions that offer ample security: AI & automation, vulnerability scanning, security awareness training and phishing simulations. All of the above greatly decrease the likelihood a malicious cyber-attack being successful.
Interestingly, IBM also found that the average cost savings associated with fully deployed security AI and automation was $3,050,000 / £2,450,000, amounting to a 65.2% cost reduction for cyber attacks that were successful. In conjunction with the decreased likelihood of successful, malicious attacks, cybersecurity offers protection against attempted cyber threats.
5.  Autonomy
Artificial intelligence and workflow automation has transformed the operational and digital landscape in every industry. The most successful companies typically automate entire workflows and processes such as manual data entry and invoices reconciliation. However, IBM (4) report that 71% of major corporations still have very few systems that utilise artificial intelligence or machine learning. Given that some autonomous solutions are dependent on the number of licenses, instead of volume of tasks, both SMEs and corporate conglomerates have an opportunity to gain a competitive edge and cost-effectively future proof their business.
Whilst there is nothing inherently wrong with the traditional means of operations; manual processes, it puts the company at a significant disadvantage compared to companies that utilise autonomy.
Let's look at an invoice reconciliation example from one of our real customers: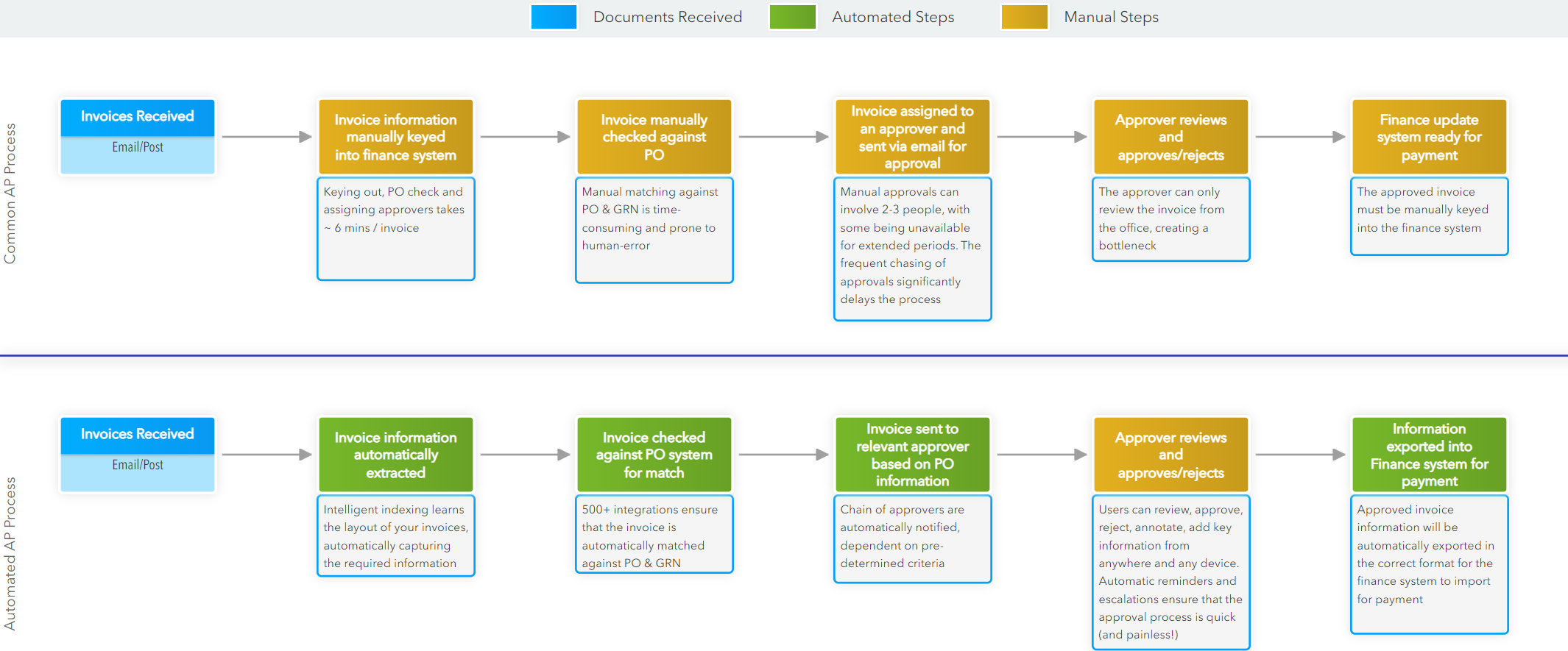 Prior to automation, this company spent an avg. of 15 minutes per invoice.
Downloading and printing invoice: 1 min
Keying information out: 2 mins
Assigning approvers: 1 min
Matching against PO & GRN: 2 mins
Routing for approval: 1 min
Chasing approval: 5 mins
Keying information into the finance system: 2 mins
Secure disposal of printed invoice: 1 min
By utilising our cloud-based automation software, they now average just shy of 2 minutes per invoice and the cost of each invoice decreased by an average of 80%.
Conclusion
Overall, the challenges that architects face are far-reaching and significantly harm the employee experience, customer satisfaction, productivity. Ultimately, these are particularly harmful to the fundamental characteristics of a successful company: profitability, growth & longevity.
However, Right Digital Solutions offers a wide range of solutions that are purposefully designed to cost-effectively convert these challenges and weaknesses into strengths and opportunities. Contact us today to find out how we can help your business outperform the competition
Contact
Get in touch
"*" indicates required fields