Managed Print Solutions
Improve the efficiency of your print infrastructure and maximise operational capability with our managed print services.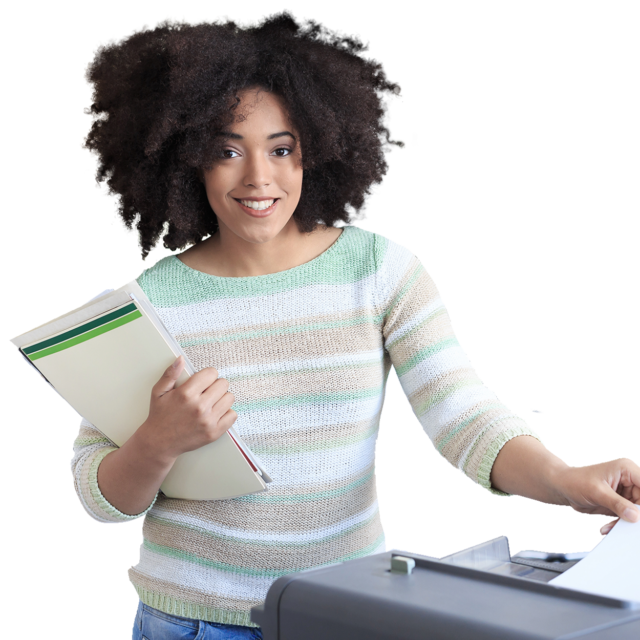 Our approach to Managed Print follows a simple 6 Step program.
When providing our managed print services, our team of technical and financial consultants use tried and tested methods to understand each customers' primary requirements. We then provide them with the most cost-effective, sustainable managed print services – supported by our unrivalled service.
Printing and photocopier product, hardware and solutions, are only proposed once the team have established medium- and long-term goals, ensuring a future-proof solution. Our independence and decades of experience providing managed print solutions allow us to provide expert insights into the Best-in-Class products available and tailored to match the solution design.
Operating as the leading, fully independent managed print provider in the UK, our customers benefit from the most competitive pricing available, manufacturer backed support and financial solutions to meet all requirements.
Print Management Software
Specialist software coordinates all processes involved in the management of your print as well as control over the security, expense and print volume. The right management software will allow your organisation to take your print infrastructure to the next level.
Find out more
Print Management Security
Our print security ensures you're printing in the most secure way and eliminates unnecessary printing costs whilst in conjunction with our Print Management software.
Find out more
Content Management & Workflow Solutions
Improving employee productivity is key, so by creating digital documents important information can be extracted and integrated in your existing process through our workflow solutions.
Find out more
Remote Monitoring Software
A digital solution that automates toner delivery, meter readings, ensures minimal downtime so devices always remain fully operational and effective.
Find out more
Job Ticketing for Remote Workers
Remote workers need the ability to work productively as possible. with an electronic job ticketing system, workers have the flexibility to submit print jobs from anywhere. Job ticketing allows your organisation to track and even control printing services from any device – helping to cut costs and boost efficiency.
Find out more
Centralised Production Print & Distribution
Right Digital Solutions are a vendor agnostic provider of Centralised Production Print & Distribution and have a choice or products to meet your unique requirements.
Find out more
Managed Service
Right Digital Solutions is a service led business, focused on developing long term relationships, with decades of experience supporting SME and FTSE organisations through fully managed services to ad-hoc break-fix support.
Find out more
Stay connected
Receive updates straight to your inbox
If you would like to be kept informed of our events and latest news, please subscribe to our newsletter.
"*" indicates required fields